---
FIRST TO COMPLETE
FIRST FAMILY GROUP
FIRST IN CALIFORNIA, USA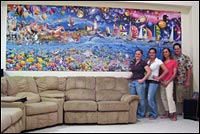 June 16, 2007:


Scott Slater, wife P.J. (with help from their 2 daughters Whitney & Sydney)
Started May 13, 2007 and completed on June 16, 2007. 34 days!! Scott says: My wife P.J. and I live in Sacramento, CA, USA. We've been doing jigsaw puzzles since we met in college. We started small and worked up as we kept finding larger and larger puzzles to put together. To date we have completed puzzles ranging in size from 5000 to 24000 pieces. This includes ... Read more here.
---
FIRST INDIVIDUAL TO COMPLETE
FIRST IN BELGIUM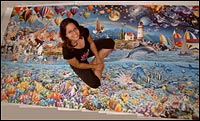 June 24, 2007


Annick - Namur, Belgium
Assembled between 26th May 2007 and 24th June 2007. Time: 28 days - 20 hours "I took 8 days for the first part, 7 for the second, 8 for the third (the lost city... HARD!) and 6 for the last one ... I did more on week-ends because I continued to work ... I puzzled more or less from 5pm until 11 or 12pm (sometime until 2am!) My favorite part was ... Read more here.
---
FIRST TO COMPLETE IN ALHAMBRA, CALIFORNIA, USA.
SECOND IN USA.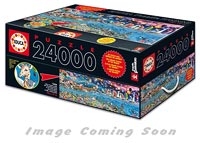 July 3, 2007




Ron Matossian - Alhambra, California, USA.

This puzzle was really fun. It took me about 120 hours to finish. I'm currently gluing it together in 1000-piece sections. The puzzle comes in four 6000-piece bags. One thing that helps is that every 1000-piece section is identical, shape-wise, so that when you are working on a hard section (where all the pieces are the same color), you can match up shapes with a previously-done section. This made some of the water areas more manageable... Read more here.
---
FIRST TO COMPLETE IN NEVADA, USA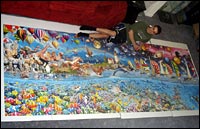 August 03, 2007


Aaron Peddicord, Las Vegas, Nevada, USA
154 hours - solo. Hello, my name is Aaron Peddicord, I'm 26, and I'm a poker dealer in Las Vegas. I got this puzzle in May 07 and began working on it in the evenings after work. I only had a few hours a night to work on this so 'days wise' it took me a long time, but 'time wise' I think I did pretty well with a final time of 154 hours. For the most part it was very enjoyable. As with any ... Read more here.
---
FIRST ORGANIZATION TO COMPLETE
FIRST TO COMPLETE IN MICHIGAN, USA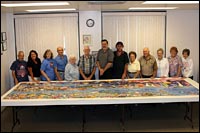 August 10, 2007


Frenchtown Seniors - Monroe, MI, USA
Assembled between June 14, 2007 and August 10, 2007. Here at the Frenchtown Senior Center there is always a puzzle being worked on. A typical puzzle usually consists of 1,000 pieces and approximately 20" x 27" in size. The puzzle is done on a table set up in our main lobby area and is available to any members who ... Read more here.
---
FIRST TO COMPLETE IN SWITZERLAND.
18 August 2007


Stephan Frischknecht - Volketswil, Switzerland
Assembled between June 5, 2007 and August 18, 2007. 6 June 2007 - I finally received your puzzle 2 days ago .... Wow! So I started puzzling on June the fifth. I will do the puzzle as an individual. I needed 4 hours to sort the pieces for part 1 and one more hour to do the edge for this part. I hope I will have 2 hours a day for puzzling, so let's see when it's done. 10 June 2007 - What a weekend ! My log says ... Read more here.
---
FIRST TO COMPLETE IN ILLINOIS, USA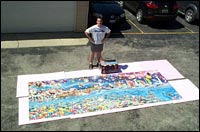 Aug 25, 2007


Daniel Schell - Brookfield, IL, USA
Assembled between May and Aug 25, 2007. Well, it took a few months....I started in May.... but I have finished it! What an awesome puzzle. I put it together in 8 sections. I used the waterline as a divider for each quarter and seperated the pieces as best I could and assembled the tops and bottoms individually. Once all 8 were done I laminated the backs of each 8th, then took them outside to the ... Read more here.
---
FIRST TO COMPLETE IN HAWAII, USA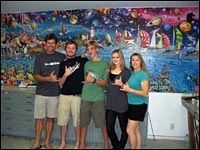 September 29, 2007


Kelsey Gaessner, Webster Ross and team - Hawaii, USA
Assembled in 65 days. First of all, we are from beautiful Hawaii.
We did the puzzle in 4 bags of 6000 pieces, although we wanted to do it as one puzzle, but couldn't due to space restraints. It took us 65 days to complete the puzzle (which, compared to others is super slow, but we wanted to have fun and enjoy our time with the puzzle, not speed through it.) ... Read more here.
---
FIRST BUSINESS TO COMPLETE
FIRST TO COMPLETE IN CANADA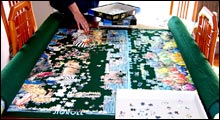 7th October 2007


Sheila Davidson (president of Jigsaw Jungle) and her team of employees
- Saint Laurent, Quebec, CANADA.
Assembled between May 4 and October 7, 2007. Hi! We (Jigsaw Jungle) have finally finished the puzzle. What a great experience! Due to prior commitments during the summer the amount of time we were able to spend was limited. Rather than gauge the time in days or weeks spent, we kept track of the number of hours spent ... View more here.
---
FIRST TO COMPLETE IN PENNSYLVANIA, USA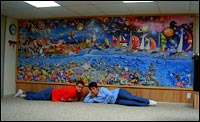 October 10, 2007


The Nero Family: Dan, Brenda, Patrick and Eric - New Castle, Pennsylvania, USA
Started Sept 11 and finished October 10, 2007. (29 days and 3 hours.) I didn't log our progress from day to day with pics, which was stupid of me, but when I do a puzzle, my mind is on that and that's all! We started on Sept 11 and ended ... Read more here.
---
FIRST TO COMPLETE IN TENNESSEE, USA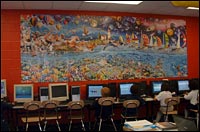 9 November, 2007


Jill Stevens - Antioch, Tennessee, USA.
Assembled between August and 9 November, 2007 27 Aug, 2007 I am assembling the puzzle at a friends house who does not have any kids or animals. I am working on this alone during the evenings after my kids have gone to sleep and my husband has returned from work. 9 Nov, 2007 Everything has been solved. The puzzle is done... I have the puzzle up in my technology classroom. It took me almost ... View more here.
---
FIRST TO COMPLETE IN GERMANY.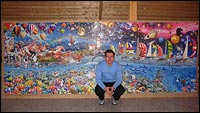 December 23, 2007


Johannes Heckl - Greding, Bavaria, Germany
Assembled between Mid-July 2007 and 23rd December 2007 My name is Johannes Heckl and I am from Greding, a small city in Bavaria, Germany. I finished the big puzzle on 23rd of December 2007. In spring 2007 I saw on the internet that there was a new 'World's Largest Puzzle' available. I wanted to have a little break ... View more here.
---
FIRST TO COMPLETE IN THE NETHERLANDS.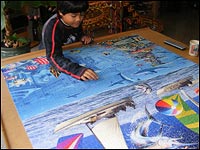 December 28, 2007


Frank Leatemia - The Netherlands.
25 October - 28 December 2007: approx 180 hours of actual 'puzzling' time. I live in the city of Delft which lies in the province of Zuid-Holland. This is one amazing puzzle to do. Although it's big it isn't too hard to do. I started October 25th 2007 and finished December 28th. With working, the short and dark days and all the obligations you normally have in December, two months isn't that much. In time it took me around 180 hours, that's 45 hours per section on average. Having good light will ... View more here.
---
FIRST TO COMPLETE IN SOUTH AFRICA
FIRST TO COMPLETE AFTER

MIXING ALL 24,000 PIECES

BEFORE COMMENCING
(note: other prior completions did the puzzle in four 6,000 piece sections.)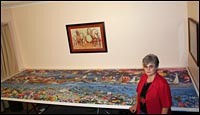 January 06, 2008




Jossie Williams - Pretoria, South Africa.


Assembled between 17 September 2007 and 6 January 2008 (Time: solo - 295 hours) My name is Jossie Williams and I am from Centurion in Pretoria, South Africa. I completed the puzzle in 295 hours (17 hours to sort the pieces included). All the puzzle pieces were mixed together before starting on the puzzle and I set myself the goal of completing the puzzle in 250 hours. I was well on target of reaching that goal, until I started the lost city and the coral reef section ... View more here.
---
FIRST TO COMPLETE IN SOUTH CAROLINA, USA
OLDEST PERSON TO FINISH THE PUZZLE SOLO (76 YRS.)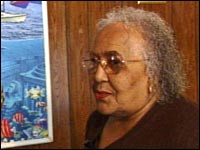 January 10, 2008




Mary Benjamin - Columbia, South Carolina, USA


Completion time approx. 6 months. Hi. My name is Steven Williams and I'd like to submit my grandmother, Mary Benjamin of Columbia, SC to your hall of fame for having completed the world's largest puzzle. She worked diligently and alone on the Herculean task and completed it in around six months, despite falling ill during that time and having to take a break. Needless to say, ... View more here.
---
FIRST TO COMPLETE IN TEXAS, USA.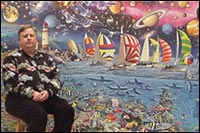 January 10, 2008


Dan Robinson - Spring, Texas, USA
Assembled between mid/late July 2007 and 10 January 2008 Took about 5 months. I am in Spring Texas, a suburb just north of Houston. I think I started around mid to late July as I purchased it after my birthday in early July and finished in early January 2008. It was mainly a solo effort .. with my wife, son and father adding about 100 pieces. I did the puzzle mainly evenings when I was on call for our ... View more here.
---
FIRST TO COMPLETE IN OHIO, USA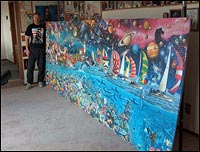 January 18, 2008

Dave Landwehr - Ottoville, Ohio.
Assembled between November 18th, 2007 and January 18th, 2008
It took me two months to put it together. The lost city was the hardest part and the last portion that I put together. I've put together many 1,000 pc. puzzles before, but nothing bigger.
It usually takes me 7 hours to put a 1,000 pc. puzzle together ... View more here.
---
Submissions Closed
This Hall of Fame site has closed for new entries.


To share your experiences about the World's Largest Puzzle we invite you to write in our new Hall of Fame blog You are welcome to link to photos or videos of your puzzle experience. We look forward to hearing your stories! .. CONGRATULATIONS!

---
---