---
FIRST GROUP TO COMPLETE IN DENMARK
SECOND IN DENMARK TO COMPLETE
December 02, 2008
Jesper, Jeannette, Lillian, and Franck - Nakskov, Denmark.
Assembled between November 1st 2008 and December 2nd 2008.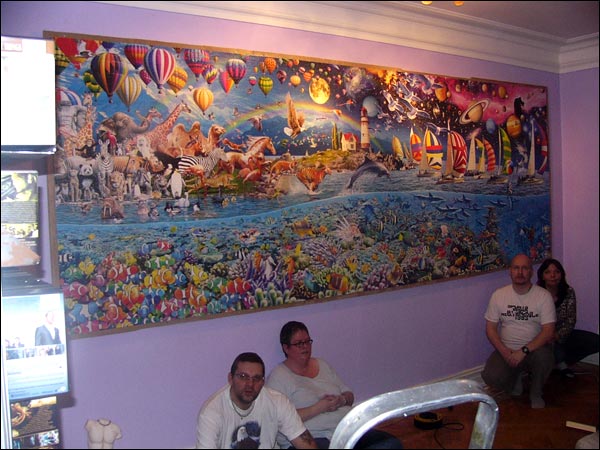 We had 4 people to assemble the puzzle, Jesper, Jeannette, and our friends Lillian, Franck. We live in Denmark (City Nakskov) It took us about 953 hours to assemble it. We started on the first of November 2008 and completed a month later on 2 December, spending about 8 hours a day. We managed to assemble the puzzle section 1 in 7 days. Section 2 took us 7 days. Section 3 took us 6 days and the last section took us 7 days

1st section: there was some banter and teasing with sorting the clowns and some of the animals, 2nd section: went fine. 3rd section: the corals took time. 4rd section: uhhh The Lost City stole much of the time it took 3 days alone.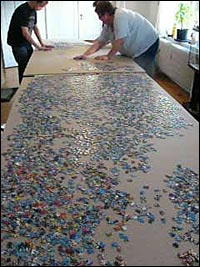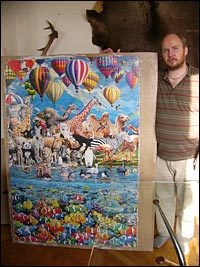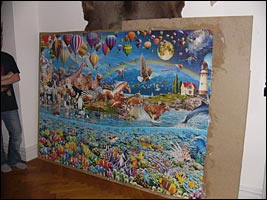 The rest comes in Danish explanation of how we assembled it:
Pusselspillet kom i 4 poser med 6000 brikker ihver
vi startede med nr 1
klovnefiskene drillede meget og der var meget sorteringsarbejde. pose 2 var der ikke de store problemer med. pose 3 damn de koraller . alle brikkerne lignede hinanden .men resten gik dog forholdsvis nemt pose 4 den forsvundne by . den var tæt på at tage livet af os selve byen tog 3 dage. forde der er mange blå nyancer overordnet fælles for alle poser vi grovsorterede brikkerne i katogorier . (himmel, dyr, vand ) derefter finsorterede vi brikkerne i farver .