---
FIRST TO COMPLETE IN IRELAND.
December 14, 2008
Caitriona Thornton - Lettermore, in Connemara in Co. Galway, IRELAND.
Assembled between September 28th and December 14th, 2008.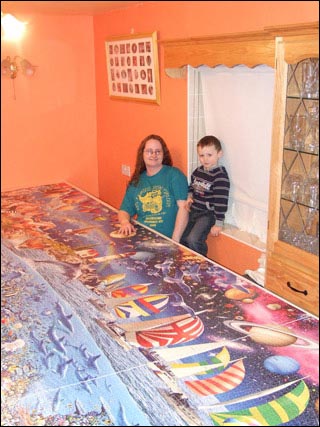 Caitriona Thornton from the wilds of Connemara in Ireland received her puzzle in the post in autumn of 2008. It took her 11 weeks from start to finish. Because of the size of her kitchen she found that most of it had to be completed upside down! She did the puzzle in sections because when she started it she didn't have the room to do it all in one go. Caitriona loved every single minute of it and is eagerly awaiting the next and even larger puzzle that is bound to come. She finds the puzzles a lovely past time and has no problem spending what time she has immersed in creating the lovely image. She's over the moon about having her own Hall of Fame page. Well done, Caitriona.