---
FIRST TO COMPLETE IN LAKELAND, FLORIDA, USA.
FIRST IN FLORIDA TO DO BOTH LIFE PUZZLES (3,000 and 24,000 pieces).
October 11, 2008
Stephanie Corson - Lakeland, Florida, USA.
Assembled between May 10 and October 11, 2008
My name is Stephanie Corson, I'm from Lakeland, Florida.
I just recently completed the 24,000 piece Life puzzle, as well as its 3,000 piece counterpart. While it was at times frustrating, and it kind of took over my apartment for several months, it was probably the most amazing and fun thing I've done in a while. The sense of accomplishment I felt when I finally put got the entire thing finished -- and realized I hadn't lost any pieces! -- was out of this world.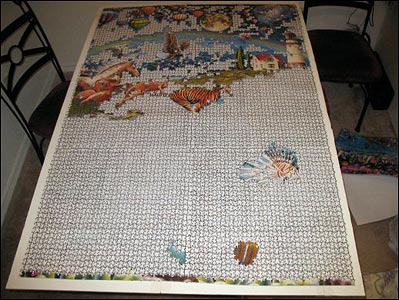 I kept a 'journal' of my progress on these puzzles that can be found HERE.

(Comment from Webmaster: Stephanie had an interesting method of aiding quicker assembly - read about it in her blog at the link above)

. All told, I worked on the large puzzle over the course of 4 months: 31 actual days of working on weekends, a total of 186 hours. The small puzzle took 2 days and about 15 hours to complete. Thank you for producing this monster of a puzzle. All my friends and family think I am completely crazy for having done this, but I think they're probably just jealous. ~Stephanie