---
FIRST TO COMPLETE IN FIRST IN CORPUS CHRISTI, TEXAS, USA.
August 12, 2008
Robin Sykora - Corpus Christi, Texas, USA
Assembled between March 2008 and 12 August 2008 (6 months to complete)
This report is as it appeared on the http://www.kiiitv.com website. Many thanks to them for this information.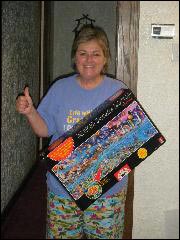 Worlds Largest Puzzle - worked by Robin Sykora
Article by: Igofishin2
Posted on: Sep 11, 2008 at 7:50 PM CDT
Channel: Local News
Location: Corpus Christi
Robin Sykora, of Corpus Christi, purchased the puzzle online around June 2007. It has 24000 pieces, is 14 feet by 5 feet, and took her a total of 6 months to complete the entire puzzle.
The puzzle came separated into four bags which were each worked on a sheet of plywood and after the final section was completed, with the help of her husband Bryan, daughter Krystle, son-in-law Daniel and her mom Dubby, they finaly got it put together. It took a total of about an hour and a half to complete putting the puzzle sections together to have the entire puzzle picture.
Being a school teacher at Banquete Elementary, she was only able to work on the puzzle in the evenings and during the summer break. It was completed on August 12, 2008. The puzzle was too large to work on any single surface, so that is why the pieces were put together on the Sykora's living room floor. With moving the puzzle around, some sections even had to be reworked after attempting to connect the puzzle.
This puzzle took much time and dedication from Robin and she enjoyed every minute of working this puzzle. She says if she comes across another puzzle as large, then she will work that one also.
The puzzle is now back in its very large box and will possibly be worked again in the future.