---
FIRST TO COMPLETE IN TYLER, TEXAS, USA.
SECOND COUPLE IN TEXAS
February 21, 2009
Travis Reed and Joy Miller - Tyler, Texas, USA.
Assembled between January 10 and February 21, 2009.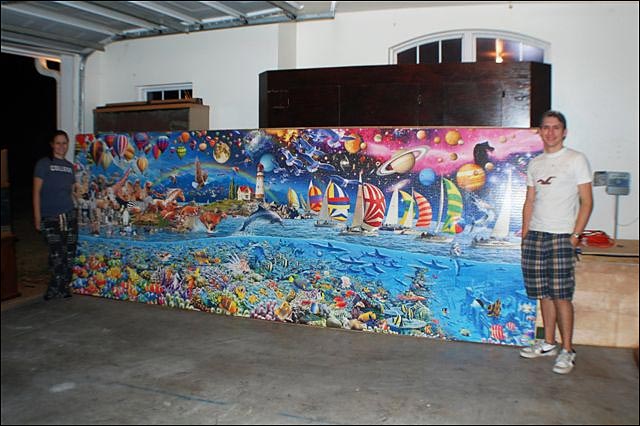 My name is Travis Reed and I live in Tyler, Texas.
I am currently a full time student at the University of Texas at Tyler, majoring in Civil Engineering.
I work part time as an intern at Schaumburg & Polk, Inc.
As a kid, I worked a lot of smaller 1000 piece puzzles. I grew out of jigsaw puzzles and began working on 3-D puzzles. I completed the worlds largest 3-D puzzle by the age of 13. Eventually I stopped doing puzzles altogether, until my girlfriend and I started working 1000 piece puzzles this last year. We desired a challenge so I cruised the net for a couple days looking for a 3000-7000 piece puzzle. I don't know how, but I ended up buying the World's Largest Puzzle at 24,000 pieces!
Me and my girlfriend, Joy Miller, started working on the World's Largest Puzzle right after the Christmas Holidays. It took us roughly 150hrs/5-6 weeks to finish the puzzle completing it just after my 20th birthday on February 21, 2009.
We worked the puzzle in sections organizing all the pieces by color and shape. We really enjoyed putting this puzzle together (excluding the clownfish!). I personally don't ever want to see a clownfish again! The underwater city wasn't so bad because it was the last leg of the puzzle so we pretty much had the puzzle's grid pattern figured out and we were itching to finish.
If you enjoy doing puzzles you will love "Life", The World's Largest Puzzle. I can't wait for the next Largest Puzzle in the World! I don't know how it will compare to the beauty of "Life" though.
Travis Reed