---
YOUNGEST TO COMPLETE THE PUZZLE SOLO (15 years)
FIRST TO COMPLETE IN CATALUNYA, SPAIN
September 18, 2008
Nil Llorens Gibert - Blanes, Catalunya, Spain.
Assembled between the 24th June and 18th September 2008.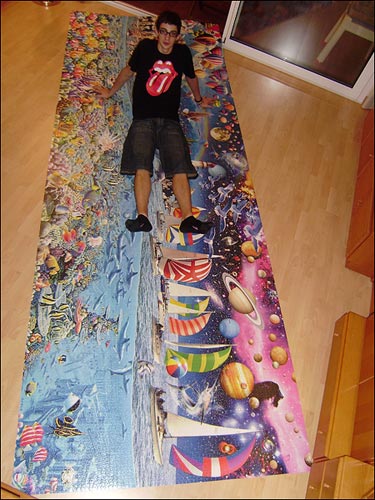 Hello, I am Nil Llorens and I have been assembling the puzzle between the 24th June and 18th September (2 months and 25 days). I think I am the youngest individual to complete the puzzle, because I am 15 years old. I am from Blanes, so I am the first to complete the puzzle in Catalunya. I like very much doing puzzles, and one day I saw in internet your fantastic website, then I started to look out for the puzzle and I got it in a week. But then I was finishing school and during the final exams I couldn't do nothing, so when I finished my exams I started the puzzle (24th June) and I have been doing it all along the summer (working during the morning and puzzling during afternoon and evening).
Nil Llorens Gibert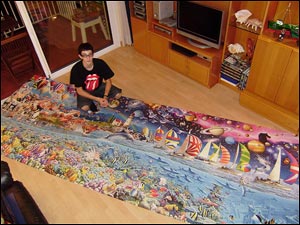 Click image to enlarge