---
FIRST TO COMPLETE IN NSW, AUSTRALIA.
THIRD TO COMPLETE IN AUSTRALIA.
March 6th, 2009
Allan Moore - South West Rocks, N.S.W., Australia
Completed on March 6th, 2009.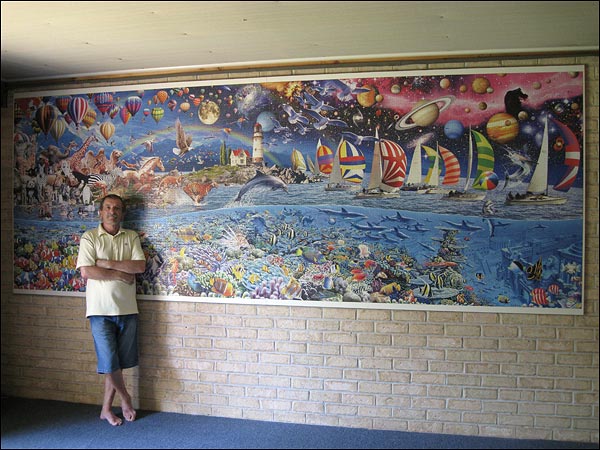 My wife, Elaine and I started puzzling about 6 years ago. The first puzzle we did was of a Wolf and in the shape of a Wolf. From there we started doing our own 1,000 piece puzzles. After doing 3 of those I wanted a challenge so I did 'Tropical Impressions', 18,000, which went on the wall with the others. Not having a lot of wall space left in the games room I did 'Zodiac', 9,000, 'Map of the World 1611', 9,000 and 'Balloon Glow', 6,000, all of which are up on the ceiling. Even after completing 'Life', I still think 'Balloon Glow' is the hardest puzzle I've done.

Doing puzzles is my hobby, I do not set myself goals to finish a puzzle by a set date,it has become something I really enjoy doing when I have the time. While doing 'Life' there were plenty of days when I did not have the time to do anything to the puzzle, plus of course, holidays took me away from it as well.

I start puzzles by sorting the colours then sort them into the various shapes which are then placed on boards face up. I've made a rack that holds 18 boards 60cms x 80cms, these boards hold the 6,000 pieces in each section easily. I did the puzzle in 2 halves, when I'd completed the first half I glued it onto 9mm board using a spray adhesive. When I finished the second half I mounted them both on the wall in our games room, it was the only bit of wall space left and it had a small window that the puzzle covers. Instead of calling it the games room I think we should now call it the puzzle room, we now have 1 x 24,000, 1 x 18,000, 2 x 9,000, 1 x 6,000, 1 x 2,000, and 18 x 1,000.

Most of the 1,000 piece puzzles were completed by my wife who I let complete 'Life' by putting in the last piece.

Regards,

Allan Moore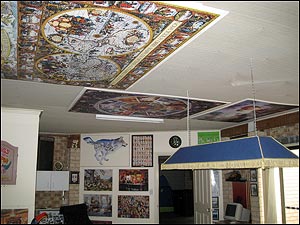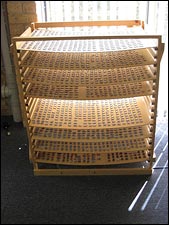 Click images to enlarge.