---
FIRST FAMILY TO COMPLETE IN THE CITY OF LOGAN, UTAH, USA.
SECOND FAMILY TO COMPLETE IN UTAH, USA.
February 23, 2009
The Savage Family - Logan, Cache Valley, Utah, USA.
Assembled between January 23rd and February 23rd 2009.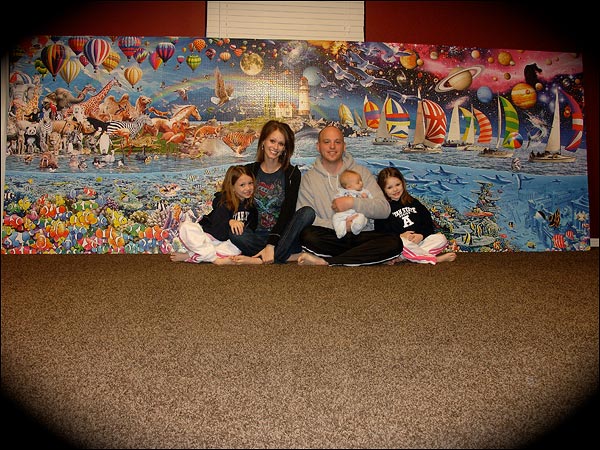 Hi, We are the Savage Family and we live in beautiful Cache Valley, Utah. We just had a baby and were in the middle of winter, with not much to do and not wanting to take a new born out we decided to look around for a new puzzle to keep us occupied. The largest one we had ever done before the Life puzzle was a 2,000 piece fall scene of the Neuschwainstein Castle. Upon looking we found this 24,000 piece puzzle ..The World's Largest. We both joked around saying "yah that would keep us busy this winter" but some how, by no fault of my own lol, joking turned into ordering, and we started the Life puzzle on January 23rd and finished it February 23rd. It was an awesome accomplishment to finish, and we enjoyed the whole process, I don't think we could ever get bored looking at all the fun things put into this puzzle. It would be fun to be the first couple to have completed it in Utah. But it was a lot more fun to see our two little girls just light up when they would find and attach a piece, so it was definitely a family completion. I'm Tyson and my wife's names is Andrea and the kids from oldest to youngest, Lexee, Taya and baby Stone. .