---
FIRST TO COMPLETE IN ARLINGTON, TEXAS, U.S.A.
January 22, 2009.
Bobby Anderson and Aimee Wolfe - Arlington, Texas, U.S.A.
Assembled between April 24 2008 and January 22, 2009.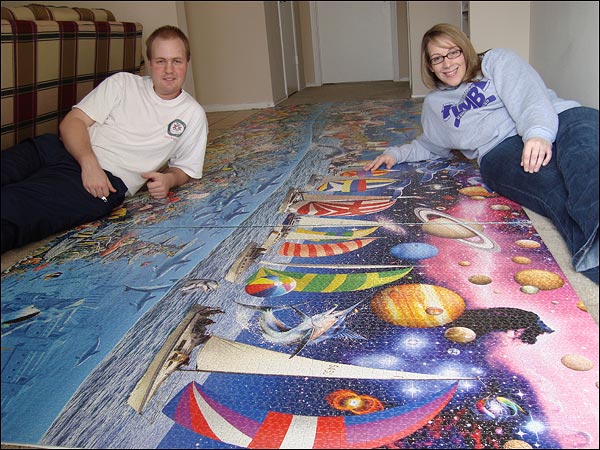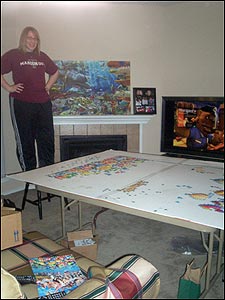 We both love working on puzzles!
From sudoku to jigsaw puzzles, we love to keep our minds at work! We began working on small, 1,000 piece puzzles every so often, and gradually worked our way to bigger and more difficult puzzles. Bobby was surfing the internet for 'large puzzles' and came across "the world's largest jigsaw puzzle," and immediately decided he wanted to complete that puzzle. As a "warm up" to the 24,000 piece puzzle, we bought a 3,000 piece puzzle of an underwater scene. It took us one week to finish it. When Bobby told me he had ordered the 24,000 piece puzzle, I thought it was a joke. Then, the box came in the mail. We completed it in four sections, putting each new section on top of the previous section. The puzzle took up the majority of the living room. Our family and friends thought we were crazy, and they all couldn't believe we had the patience to put so much work into it, but we were both determined! After section two was completed, we took a break for approximately a month to focus on school and work. When we completed section three, we put all three pieces together in the living room. It was hard to believe that we still had one section left. After the entire puzzle was completed, it took approximately two days to put each section on its' own piece of foam board and put contact paper on the back. When section four was almost finished, we realized we were missing a piece. It was a heart breaker to look at the finished puzzle, minus a piece. We ordered the piece (and one close to it, just in case!) and crossed our fingers that it would get here soon! On March 2, we finally received both pieces ordered! No puzzle will ever top this experience!