---
March 1, 2009
The Philpot Family - Warrnambool, Victoria, Australia.
Assembled between December 23, 2008 and March 1, 2009.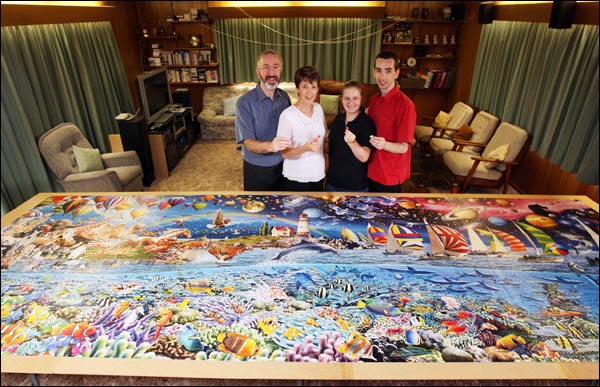 Heya,
My wife Stacey and I (Ben) decided to get a jigsaw for my parents, John and Ronda Philpot, for Christmas 2008. We have been living with them in Warrnambool, Victoria, Australia, while we wait for our house to be built, and thought we'd show our appreciation with a puzzle. Stacey found an 18000 piece puzzle on the internet, but I really didn't like it. It looked like 4 separate puzzles joined together rather than a proper 18000 piece puzzle. So I had a look around and found this 24000 piece puzzle and loved the look of it. Stacey loved it too, so we decided, forget the parents, let's purchase this for ourselves and ask mum and dad to do the puzzle for us as a house warming present.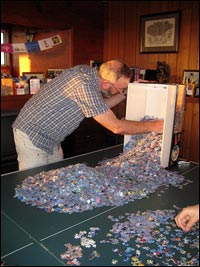 However, when we asked for them to do the puzzle for us, we didn't tell them how big it was :) We just told them it was bigger than the 9000 piece puzzle that was the biggest they had done. Then when the house was finished, we would put it on our wall. Needless to say, when they saw the size of the box, and then found out the number of pieces, they were quite shocked. So on December 23, 2008, we opened the puzzle, and the four of us began by joining all of the bags together. I only wanted to do it once, so it had to be done properly. On March 1, 2009, we finished, 68 days and 90 minutes after starting. We hoped to be done by the time the house was finished, but we finished quicker than expected, and once done, work began on our house that week! We needed to construct a surface large enough to fit it. So dad attached 4 sheets of wood to the top of our table tennis table. It wasn't until we finished putting all the edge pieces together that we really appreciated how much work it was going to take to complete the task... it looked huge. We are quite competitive with each other, and so we went in hard, each sorting in their own way. It was quite annoying, and much arguing (of a loving nature) followed, but although we all had different methods of doing the puzzle, we could each pick something different to work on. Therefore, apart from the sorting, it wasn't a real problem until close to the end. By that stage, the frenzy took over, and it didn't take long to finish it off. An unfortunate incident happened about a week after we started. Relatives came over, and one with a 15 month old in her arms got too close to the puzzle (twice!). The hungry 15 month old managed to munch a little on a couple of pieces. Hopefully Educa will replace these two pieces :) because we would like to put the puzzle on our wall.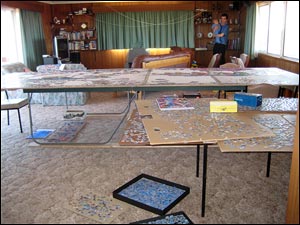 When we finished, there was a piece missing. We spent quite a lot of time looking for it. It was almost 24 hours before it was found in the original plastic bag! Pity we don't know who to blame for that one (unless it was me...)! The completion of this puzzle made front page headlines in the local newspaper, and in the article, we decided to announce an open day with proceeds going to school chaplaincy in the area. Hopefully there will be plenty of interest. The reporter and team were quite amazed, and the photographer said it was the most difficult picture he has had to take. The photo includes the four main contributors to the puzzle however many guests to the home put in a piece or two during their visit. Special mention goes to my brother Andrew and sister Danielle who also contributed, and my other brother Chris, who didn't even put one piece in, despite being here multiple times each week. Bring on the next challenge! This is the address of the article that appeared in the newspaper:
http://www.standard.net.au/news/local/news/general/family-solves-worlds-biggest-jigsaw/1450549.aspx Text of which appears below:

Family solves world's biggest jigsaw


BY TINA LIPTAI
5/03/2009 4:00:00 AM COMPLETING a jigsaw during the summer break is a Philpot family tradition. But this year things got a little out of hand when they decided to tackle the world's biggest puzzle. At 24,000 pieces and more than four metres long, the mega brain-bender, titled Life: The Great Challenge, took the Warrnambool family 69 days to complete. They may be the first Australians to complete the challenge, with no other claims to the honour on the jigsaw's website. Having completed a 9000-piece puzzle before, John Philpot said it wasn't until the 12-kilogram jigsaw arrived that he, his wife Ronda, their son Ben and his wife Stacey realised the huge task. "We knew it would be a challenge but once we saw the picture we really wanted it, and we didn't tell (my parents) how big it was," Ben said. Averaging 353 pieces placed per day, family members worked on the puzzle whenever they could, admitting once it was out of the box the jigsaw became an addiction. "I'd love to do it again," John said. "It's very addictive, I couldn't walk past without doing a piece." The Philpot's will open their home on 17 Verdon Street from 2.30pm to 5.30pm on March 14 for anyone interested in seeing their masterpiece up close. Entry is $5 which will be donated to School's Chaplaincy.