---
16 December, 2008




Oscar Guerrero Ramirez - Malaga, Spain.


Assembled between 14 August and 16 December 2008.

(This is an English translation, the original text in Spanish is below.)

Hello, here's a bit of background information on my interest in puzzles and how I assembled this puzzle. My name is Oscar Guerrero Ramirez, I am 34 years old and live in Malaga (Spain). From small I've been an enthusiast of the 'world of puzzles', Time line: From approximately 14 years old when I assembled my first 2,000 piece puzzle, gradually I was putting together increasingly bigger puzzles ... culminating in this 24000 piece puzzle!. Throughout my life I have assembled many large puzzles. Of particular note are the following: 8,000 pieces (The Workshop of the Artist), 7,500 pieces (City of New York), 12,000 pieces (New York by night), 18,000 (Map),and lastly 24,000 pieces (Life). I started this impressive puzzle in August 2008 and finished it in December. Really, I do not think that it is a difficult puzzle to assemble because of the great variety of colors and the style of the painting. The inconvenience is just that of having such a great number of pieces and the necessary large amount of space that is required to put it together. I did not work on the puzzle everyday. I mainly worked on it during the weekend. What I did was to assemble it in portions and to reduce the space required by utilizing cardboard sheets. In the beginning I spent one week classifying pieces by form, then sorted by colors.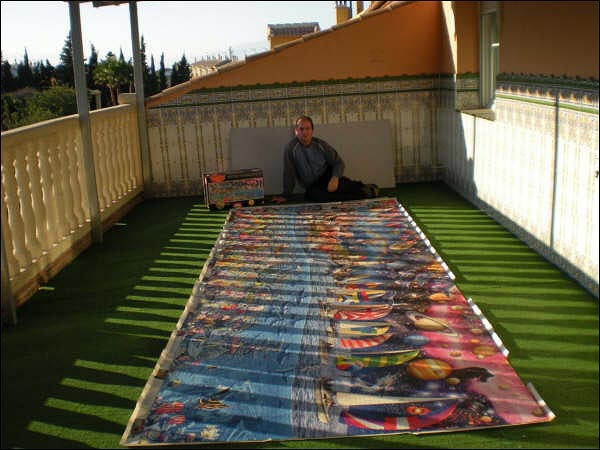 As is normal I assembled the exterior (straight) edge first .. The parts that I assembled after the edges were the following:
Pink Sky and planets
Sea and ships
House, lawn and rocks
Animals
Globes
Smooth Sky
Sky with stars
Gulls
Clownfish
Coral
Lost City
Dolphins
The remainder
I would encourage people who like puzzles to try building it. Yes, it has lots of pieces but it's not as difficult as it looks, and with patience you ultimately succeed. Oscar Guerrero Ramirez
hub555@hotmail.com
---
SPANISH:

Me llamo Oscar Guerrero Ramirez, tengo 34 años y vivo en Malaga (España). Desde pequeño soy un aficionado al mundo de los puzzles, tenia unos 14 años aproximadamente cuando monte mi primer puzzle de 2000 piezas. Poco a poco fui montando puzzles cada vez mas grandes hasta llegar a 24000 piezas. A lo largo de mi vida he montado puzzles sobre todo de muchas piezas, entre ellos quiero destacar algunos: de 8000 piezas (El taller del artista), 7500 piezas (ciudad de new york), 12000 piezas ( new york de noche ), 18000 ( mapamundi ), 24000 piezas (vida). Este impresionante puzzle lo empece en agosto de 2008 y lo termine en diciembre. Realmente no considero que sea un puzzle dificil de montar, por la gran variedad de colores y caracteristicas del dibujo. El unico inconveniente que tiene es el gran numero de piezas, por lo que se necesita un gran espacio para montarlo. Lo que hice fue montarlo por partes para reducir el espacio y lo que utilice para hacerlo fueron planchas de cartones. Al pricipio estuve una semana clasificando piezas por forma para luego empezar a separar colores. Lo primero, como suele ser lo normal, fue montar el borde exterior. Las partes que fui montando despues del filo fueron las siguientes:
Cielo rosa y planetas
Mar y barcos
Casa, cesped y rocas
Animales
Globos
Cielo liso
Cielo con estrellas
Gaviotas
Peces payaso
Algas
Ciudad perdida
Delfines
Resto
Solo decir a la gente que le gusten los puzzles que se anime a montarlo porque aunque tenga muchas piezas no es tan dificil de lo que parece, con paciencia al final lo puedes conseguir. Oscar Guerrero Ramirez
hub555@hotmail.com