---
FIRST TO COMPLETE IN MARYLAND, USA.
FIRST COUPLE IN MARYLAND, USA.
August 20, 2008




Todd Levy and Diana Mandelker - Odenton, Maryland, USA


Assembled between December '07 and August '08. I'm Todd. My fiancée, Diana, and I completed the puzzle in four separate sections. We started it in December of '07 and finished in August '08, but didn't do each section consecutively. Each quadrant took us about a month. The total number of pieces that I've put together for puzzles with 2000 or more pieces is now 91,200. This puzzle was a lot of fun. The picture was so colorful and detail oriented. Our routine was for me to dump out all of the pieces and flip them over on the sheets of foam core, which took about two hours, while Diana would take all of the edge pieces I found and start assembling the border. For some strange reason Diana prioritized her cancer research ahead of the puzzle, so I wound up doing the majority of the puzzle.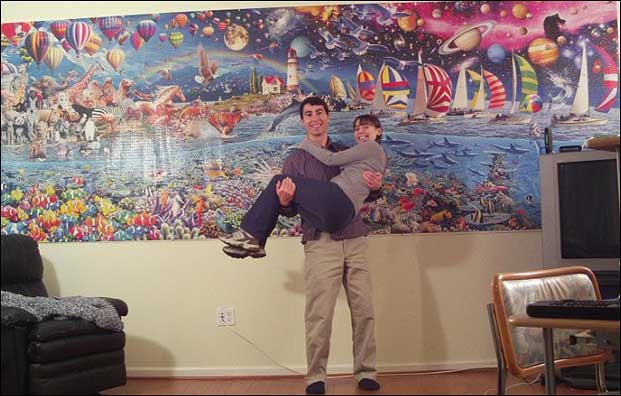 Prior to starting the puzzle, I noticed that the longest wall in my condo was 12', so I needed to put up some sheet rock and extend that wall to 15'. Luckily I did this before I installed my laminate wood floor. Five months passed between completing the puzzle and submitting our testimonial because I needed to figure out a good way to hang it. I liked the California people's idea to put contact paper on the back of the puzzle. I noticed that once I did this, I could roll the puzzle into a tube which would make it easy to move. What I didn't realize at the time was that it wasn't a good idea to leave it rolled up in a tube for five months because over time the cylinder squashed down and the pieces on the sides, where there was the most curvature, started to come a bit loose.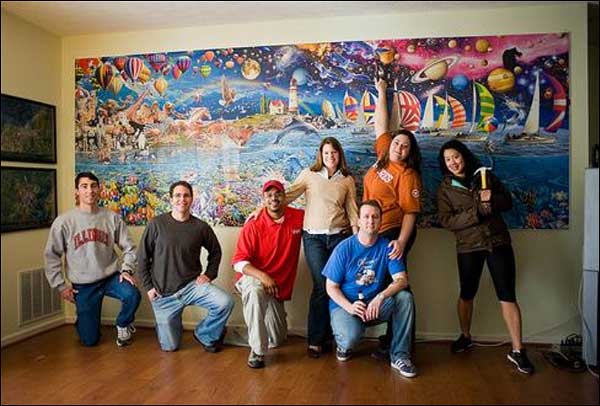 I taped together six sheets of 40"x 60" foam core on one side and cut them to the size of the puzzle. I only taped one side of the boards so that I could fold them along the crease to save space if and when I move. Next I adhered Velcro to the contact paper on the back of the puzzle and attached the mating Velcro to that. There is a horizontal strip at the top and the bottom, and 9 vertical strips equally spaced out. Six of my friends came over (pictured) and we peeled off the paper on the mating Velcro and placed the foam core on top of that. While they held the puzzle in place, I took off a few pieces at a time and pounded some nails through the boards into the studs in the wall and then put the pieces back on. I have a row of nails at the top and bottom of the puzzle. I'm considering putting plexiglass over it, but that's going to cost more money, so I'm holding off for now. There are a few wrinkles because of the method I used, but they're not too noticeable, and maybe if I did it again I could do a better job. I thought it might be neat to network with other puzzle enthusiasts.
So here is my Email: todd.j.levy@gmail.com