---
FIRST TO COMPLETE IN SAN LUIS POTOSI, MEXICO.
SECOND IN MEXICO.
October 15, 2008
María del Carmen Rodríguez Liñán - San Luis Potosí, SLP, México.
Assembled between 2nd July and 15th October 2008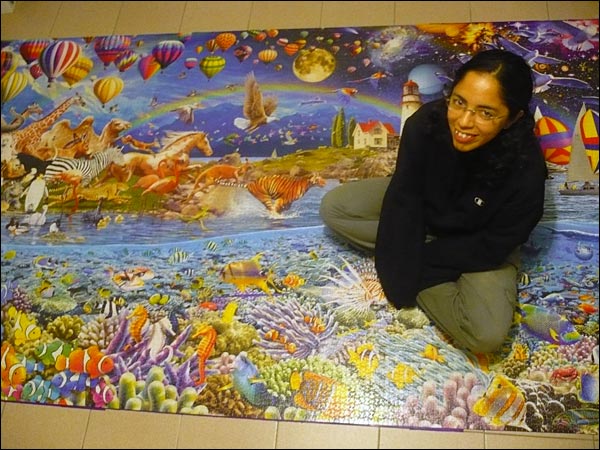 I live in San Luis Potosí, México, I'm 23 years old and currently I'm finishing my master in electrical engineering. I've been puzzling since I can remember, the passion for puzzles began with the first one that I had in my hands, it had only 12 pieces, and I couldn't stop solving and unsolving it, since then, I haven't stop puzzling. It's really entertaining, and relaxing at the same time, one can spend hours on that and forget about everything else. Until now, the biggest one that I had solved had 2000 pieces, but I needed a bigger challenge, so when I found this one I couldn't resist the temptation. I started on the first days of july 2008, it took me about 2 months and a half to complete by sections, between 4 and 5 hours a day, though I had to stop for a while to complete my thesis document. The easiest sections were the two first, such variety of images, fish, plants, animals, balloons; that makes it more simple to identify the pieces. On the other hand, the sections 3 and 4 were harder, mostly because of the birds and the submarine city, most of the pieces are just blue and is hard to distinguish the details, one tends to get confused. To solve it, I started by the edges, and my usual tendency is to start by the bottom. In this case, that worked just right because in the four sections, the bottom contains easily identifiable images. Generally, I don't focus a lot in finding a piece in particular, instead, I put together those that are easily noticeable in the box, the rest are found on their own time. One anecdote. When I was finishing sections 2 and 3, I realized there were two pieces missing, one from each section. This, as supposed, can drive anyone nuts, specially when talking about a puzzle of these dimensions. Luckly, I had the aid of three people to stay calm on my behalf, and to try to make me think positively, my best friend, Ezequiel, and my parents. Fortunately, I found the two pieces, but, the credit is to them for cheering me up at those moments and for helping me to find them. Well I finally finished it, I still can't decide how to mount it, but I think that can wait a little while. It was really fun, right now I don't know what to do with all of this free time, I guess I'll just start a new one, of course not so big. Anyway, thanks, it was worth the investment.
---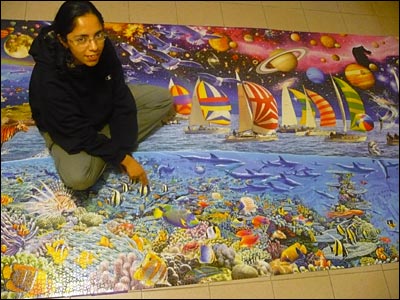 María del Carmen Rodríguez Liñán
San Luis Potosí, SLP, México.
Armado entre el 2 de julio de 2008 y 15 de octubre 2008. Vivo en San Luis Potosi, mexico, tengo 23 años y actualmente estoy terminando mi maestria en ing electrica. He armado rompecabezas desde que tengo memoria, el gusto nació con el primero que tuve en mis manos solo tenia 12 piezas, y no paraba de armarlo y desarmalo, desde entonces, no he dejado de armar rompecabezas, es realmente entretenido, y a la vez relajante, uno puede pasar horas en ello y olvidarse de el resto. Hasta ahora, el mas grande que habia armado fue de 2000 piezas, pero necesitaba un reto mas grande, asi que cuando encontré este no pude resistir la tentación. Inicié a principios de julio de 2008, me tomó aproximadamente 2 meses y medio para armarlo todo por secciones, entre 4 y 5 horas al dia, aunque hubo que parar un tiempo para completar la redacción de mi tesis. Las secciones mas sencillas fueron las dos primeras, tanta variedad de imagenes, peces, plantas, animales, los globos, hace que sea más sencillo identificar las piezas. Por otro lado, las partes 3 y 4 fueron mas complicadas, mas que nada debido a los pájaros, y la ciudad submarina, gran parte de las piezas son simplemente azules y es dificil distinguir los detalles, uno tiende a confundirse. Para armarlo, comencé con las orillas, y mi tendencia es empezar por abajo. En este caso funcionó ya que en las cuatro secciones, la parte inferior contiene imagenes faciles de identificar. No me enfoco demasiado en encontrar una pieza en particular, mas bien, en armar las que sean facilmente localizables a simple vista en la caja, las demas se encuentran a su tiempo. Una anécdota. Terminando las secciones 2 y 3, me dí cuenta de que faltaban piezas, una de cada sección. Eso, como es de suponerse, puede sacar de quicio a cualquiera, especialmente tratandose de un rompecabezas de esas dimensiones, afortunadamente, tuve a tres personas ahi para mantener la calma por mi, y tratar de hacer que yo pensara positivamente, mi mejor amigo, Ezequiel, y mis papás. Afortunadamente encontré las dos piezas, pero, el crédito es de ellos, por animarme en esos momentos y ayudarme a buscarlas.