---
31 August, 2008
The Kienitz extended Family and Friends (a total of 72!!) - Lakewood (Denver), Colorado.
Assembled between December 28, 2007 and August 31, 2008.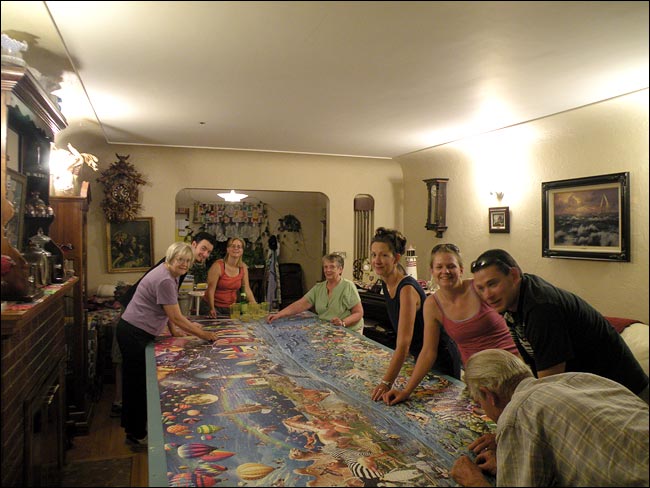 A list of names of our friends and family that helped along the way: Connie and Leonard/Andy and Anna/Andrew and Josie and Maria/Graham/ Allon/Aaron and Angelique/Ray and Linda/Greg/John and Roxanne/ Zach, Cameron and Ashley/Adam and Dayna and Ezekial/John and Adine/ Mark and Allison/Jarod and Amy/Filip/Becky/EMA/Rowena/Shirley/ Margaret/Ron and Carolyn/Lynn/Charles/Isaac/Todd and Erika/Makenzie/ Alex/John and Linda/Ben/Nicholas/Mimi/Jeremey and Angie/ Troy and Nikki And Jonah/Larissa/Yelena/Olivia/Steve C./Shawn C./ Nate/K /Phyllis/Jody/Shauna/Rachael/Sharon/Steven/Kim S./Marie/ Rick and Sue/Aunt Dotty/Karel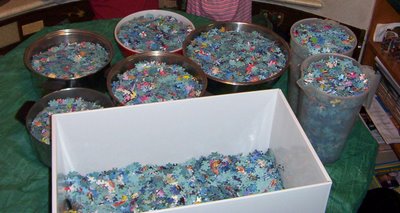 Every year for Christmas my mother struggles to find something that each of us will like. It's a really big task because there are so many of us. My parents have five sons and four daughters and all of us are married. The fifteen grandchildren and friends make it even harder. This is what she came up with...The World's Largest Puzzle!!! It has TWENTY FOUR THOUSAND pieces and measures 5 by 14 feet. The largest puzzle previously attempted by anyone in our family is ONE thousand pieces, so this should be quite a challenge. The puzzle came in four bags of 6,000 pieces each which were immediately poured together in the gigantic box it came in. Mom poured them into bowls and pans to make sure they were mixed properly! Everybody was very excited to get started. There was just one simple problem. If we hadn't mixed all the pieces together, a good sized table would been big enough to assemble each section. We needed an extremely large puzzling surface.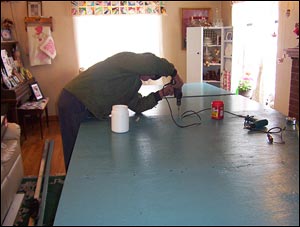 This is where Dad's construction abilities came in very handy. Actual table dimensions are 14.5 feet long by 5.5 feet wide. If you would like schematic drawings to build your own table, let him know!! Pretty cool, huh! You can also use it for Thanksgiving and Christmas dinners and family reunions. Now we are ready for the Official Puzzle Open Season Ceremony so we can start. On December 28th, 2007, the puzzle season officially opened and the craziness began. The family thought they were coming over to put pieces together but quickly realized that it was very hard to find two connecting pieces. There are approximately 800 edge pieces and in each handful from the box you have a 30% chance of finding an edge piece. We were all content to just sort pieces by color while watching for side pieces.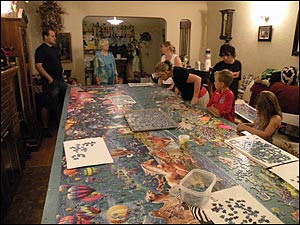 Dad is an expert at finding edge pieces - as of February 13 there are only two missing. Mom became the lead sorter, spending the majority of her time patiently sifting through the box. She separated them into "sections", increasing our piece-together total. On the World's Largest Puzzle website one lady spent seventeen hours sorting her puzzle. Mom set up several competitions. Each person was asked to guess when it would be finished. In order to finish it in one year, ninety pieces need to be put in their final resting places every day. There were also prizes for those who found the corners and specific parts in the picture. The grand prize if you get the date right is a candy bar. LUCKY!!!!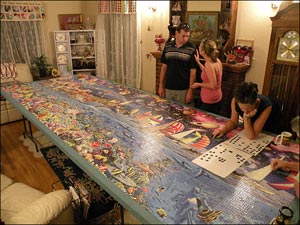 We mounted the picture (the poster supplied to help guide assembly) to foamboard so it would be easy to pass around. Everybody has their own puzzling technique. My brother Allon searches through the box for a piece he likes, finds it on the picture then puts it in. Dad searches by color. Mom looks for pieces that fit into her sections. Each person adopts an area to work on. And progress is steadily made. Until finally on 31 August 2008, it was complete! Andy Gates. For many more photo's of the people and the puzzle progress
you can view Andy's blog: http://momandpopspuzzle.blogspot.com