---
15 October, 2008
Irina Koneva - Voronezh City, Russia.
Assembled between 4th of February and 15th of October 2008.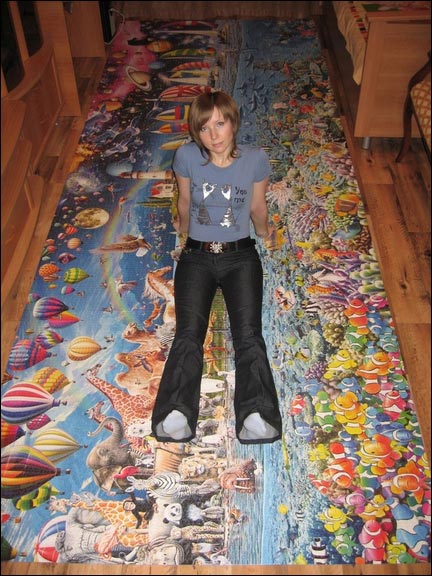 Hello! My name is Irina. I live in Voronezh city, Russia. I started the puzzle on February, 4th, 2008 and have completed on October, 15th, 2008. I mixed all pieces, because I wanted to build one puzzle in 24000 pieces, but not 4 puzzles in 6000 pieces. This puzzle is not on sale in Russia, therefore I ordered it in Ukraine. I had not enough free time and place to build the puzzle, but I have enjoyed very much from work with it in spite of discomfort. By the way, it was the first puzzle which I have started to build from the sky. Before I built moderate puzzles (maximum 6000 pieces) and the sky was always gathered at the end. I have not thought up yet where I will hang up the puzzle, but I will solve this problem in the near future. Irina

All 24,000 pieces mixed together.