LIFE: The Great Challenge - by Royce B. McClure
Number of pieces: 24,000 !
Finished Puzzle Size: 428cm x 157cm (4.28m x 1.57m) - 168.5 in x 61.8 in (14ft 0.5 in x 5ft. 1.8in)
LIFE: THE GREAT CHALLENGE. When I was asked by David Olesti of Educa Borras to design the artwork that would be used for the world's largest commercially made jigsaw puzzle, I sat down and had a good long think about it. Not whether or not I would do it (of course I would accept the challenge) but how to come up with a design that would do the concept justice.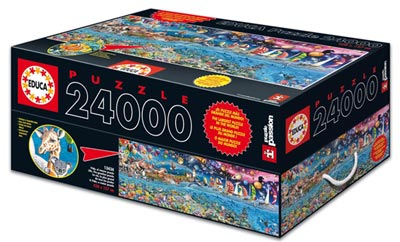 Over the last 15 years I have had over a hundred puzzles made from my artwork. During this time I have received a lot of feedback from puzzlers about what makes a good puzzle: challenging, but not impossible, lots of detail but still making a satisfying overall picture when completed. Most of all they have to be fun to do. The challenge for me in a puzzle of this huge size was to eliminate large areas where no changes take place. This, of course, means the puzzle will look quite 'noisy' when shrunk down on the box or in a brochure. I hope that the puzzlers who accept the challenge to do this puzzle understand that if the art looks perfectly pleasing in a small size, then it will drive you mad with boredom when blown up to a huge size then cut up into small single colored pieces. The puzzle comes in four packets, breaking the art up into four vertical sections that join together to make 'Life'. I have tried to make each section different enough from the other sections so that you won't feel that you are doing the same puzzle over and over. If you are about to start on the puzzle and you feel intimidated by the amount of time it will take you to do, then give a thought for the artist (me)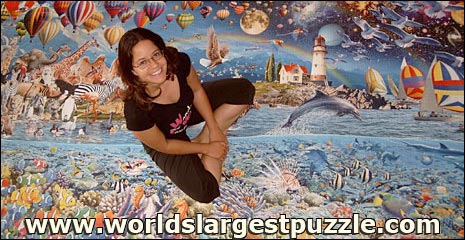 who designed and painted the piece in the first place. Well, to tell the truth it wasn't as difficult as it could have been. Nearly all the art that makes up 'LIFE: The Great Challenge' came from other paintings that I had already completed. Over the years the original airbrushed acrylic works that I painted have been scanned and the various elements in them have been made into layers. These items can then be recomposed on a computer to create new compositions. Normally this is just so that artwork isn't cropped in a clumsy way to fit a client's needs, but recomposed to best fit a different sized product. In this case however the whole design was done this way. To do otherwise would have been impossible as the final product here represents years of work. For example - The Lost City art making the bottom right hand corner of this piece originally took around 400 hours of work by itself. The paintings that together make up LIFE are shown HERE as they were first done. Use the ZOOM feature on the Life art and see if you can find how they were used in the puzzle. Some pieces (such as the dodo from Wonderland) are tough to find.

The Guinness World Records

It's official!


"LIFE - The Great Challenge" is now officially registered as the world's largest commercial jigsaw puzzle. Click image to enlarge
---

Join the Challenge!
---